A stray puppy came at the City of San Bernardino Animal Services appearing completely defeated and forlorn.  Lois Chisholm, a rescue worker, never imagined her heart would be broken again. "Just when I thought my heart couldn't be broken any further, I see a pic like this," Lois posted on her Facebook page. "His expression and body language speak volumes… We don't know their backgrounds, but the sadness and defeat in their eyes is palpable. Shelter dogs are just like your own cherished pet. They only want to be loved."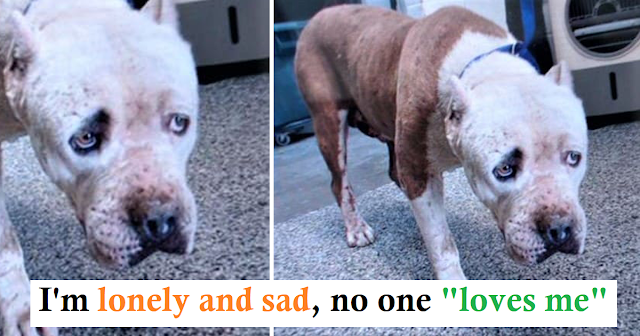 I am a white and brown Pit Bull Terrier mix boy. Shelter workers estimate my age to be around six years old. I've been a resident of the shelter since May 5, 2021.
If you are my owner, you must come to the shelter in person to claim me. Our address is 333 Chandler Place, San Bernardino, CA 92408. Our Lost & Found is open from 10:00 a.m. to 5:00 p.m., Tuesday through Saturday.
If I am not claimed, I may be available for adoption on May 11, 2021, at the end of my stray holding term.  Call San Bernardino City Animal Control at (909) 384-1304 for further information about this animal.
Inquire about the animal ID number A538284.
Tuesday through Saturday, 10:00 a.m. to 5:00 p.m., the shelter is only open by appointment. Spread the word about this dog's situation to approved rescue organizations, friends, family, and social media contacts. It is possible to save lives by sharing.