A woman is being hailed for her bravery after she rescued a puppy outside an east Charlotte gas station on Wednesday from men who were trading him for drugs.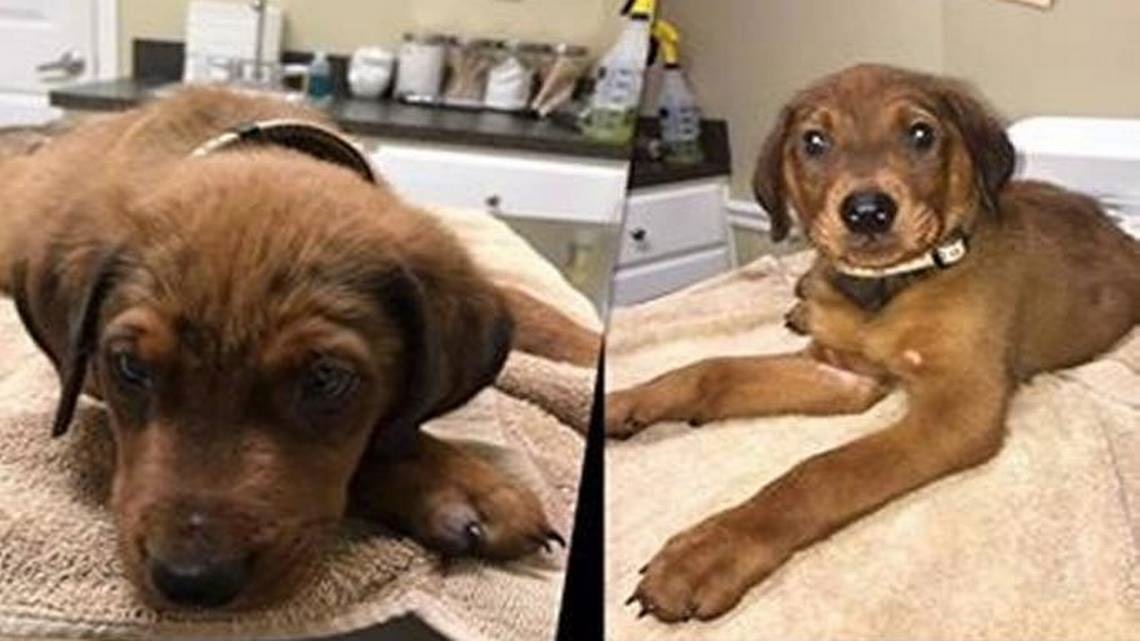 Kaitlin Cappelluti posted on Facebook that she saw the puppy at the station on Albemarle Road and asked what was going on, because the puppy seemed to be "way too hot."
"They were trying to trade him for a rock of crack," she said. "I was able to get the guy to give him to me for 50 bucks. I know I shouldn't have done this but what would you have done? Can any rescues take him right now please?"
To explain why the dog was missing hair in spots, the men told her they put flea powder on the dog that burned his back.
The South Charlotte Dog Rescue organization reported Cappelluti's good deed on Facebook on Thursday.
After contacting local shelters to report the puppy, Cappelluti turned him over to South Charlotte Dog Rescue for his mandatory 14-day hold, the rescue group said.
"Bart (as his medical foster named him) was in poor shape," the group posted. "The scars that have already healed all over his body tell a horrific story of his first weeks in this world. Burns on his back show recent trauma as well. His tail has been docked and developed an infection."
A veterinarian examined Bart Thursday morning and put him on antibiotics, according to the group.
The puppy is about 10 to 12 weeks old and appears to be a shepherd mix, the nonprofit rescue organization said.
"With such a rough start, we were worried about how Bart would take to other dogs and humans, but he has started playing and showing just how big of a heart he has," South Charlotte Dog Rescue said. "It's amazing to see how resilient these sweet creatures are, that they still have this capacity to love despite what humans do to them.
"We look forward to continuing to watch Bart grow and thrive, eventually finding him his forever home."