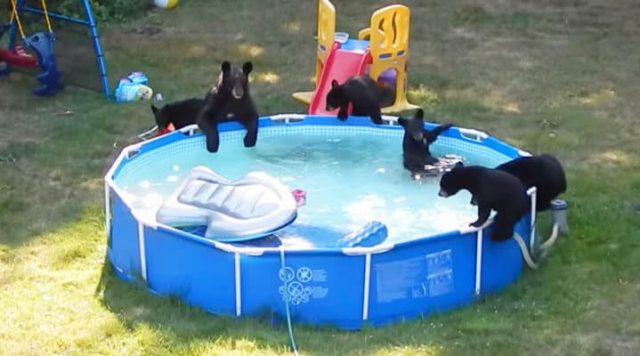 We are all familiar with the Goldilocks' tell-tale, breaking in a bears' house, eating their food, sitting in their chairs, and sleeping in their beds. Well, it happens that tables have turned and now it's the bears' time.
In the Rockaway Township in New Jersey, one hot summer day, the Basso family were watching from their backyards a scenery that is not so often encountered. Five bear cubs, taking full advantage of the space in the backyard, were enjoying themselves to the fullest! Swinging on the swing set, playing with the floats of the pool, and splashing around, were some of the activities they so eagerly engaged in.
Mom is not at all startled by this but the daughter, Sophie is scared that the bears might poke holes on her inflatable pool. Dad doesn't look so comfortable either. But the most uncomfortable of all was the fact that mama bear was nowhere to be seen.
It didn't take long however for her to show up. After all, she needed to keep an eye on her kids for playing in the pool is a risky business. Plus, she might have wanted to cool off too.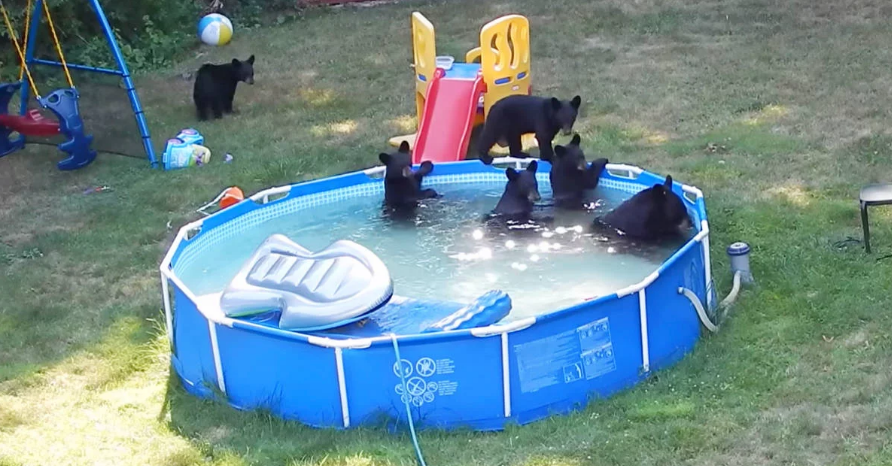 In fact, she looks inside the house to make sure that she and her cubs are safe to continue their play. As soon as she realizes the family is far away, she climbs in the pool herself. Her cubs meanwhile are up to all sorts of mischief, from shredding up a floatie to popping an inflatable ball. As she tries to scold one cub, another puts up a similar mischief. She sure has it hard.
Though little Sophie looked disgruntled to have to share a floatie with a bear, she will soon look at it and remember the funny scene like her mom right now who sure seems like she is enjoying the bear show!